Are you looking for a Tiki Hut or Tiki Bar that will transform your backyard into a tropical paradise in Riverview , Florida?
---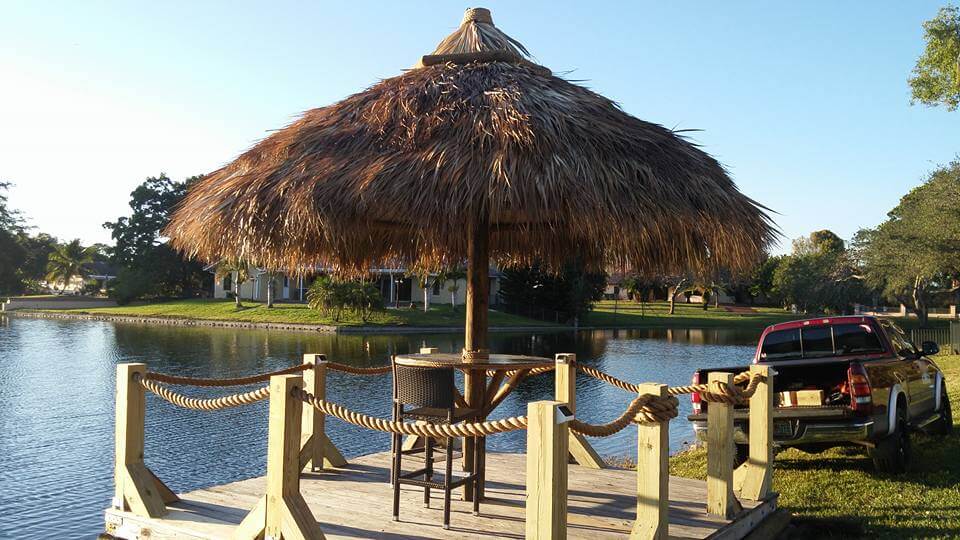 A Tiki Hut or Tiki Bar installed by Florida Tiki Huts is the perfect solution for individuals living in the Riverview, Florida area who may be looking to transform there backyard into a tropical tiki paradise. Tiki Huts are the ideal solution for both residential homeowners and commercial business owners looking to create a comfortable tropical looking area for guests to gather and hangout.
Tiki Huts of Riverview, Florida installed by Florida Tiki Huts are among the highest quality, most affordable tiki huts and tiki bars being custom designed and built. We offer custom designs and have a variety of different styles and custom sizes that can be installed with any of the following features:
4 Coats of Polyurethane For A Mirror Like Finish
Custom Stain Colors
Custom Foot Rails
Interior Bar Walls
Bamboo Reed
Custom Shelving
Custom Cabinets
Custom Built-in Sinks
Fire Retardant Spray
Custom Tables
Florida Tiki Huts specializes in custom tiki huts, tiki bars, palm huts, outdoor huts, umbrella tiki huts, thatch roofing, rethatching, custom decks, fire retarding, and tiki carpentry projects for residential homeowners and business owners who may be looking to add a tropical tiki oasis to there hotel, resort, restaurant, bar, pool, beach, patio, and deck.
Florida Tiki Huts is a locally owned and operated company servicing Riverview, Florida with tiki huts and tiki bars. We are the premier tiki hut and tiki bar builder of the Riverview, Florida area. We design and professionally install tiki huts and tiki bars throughout Riverview, Florida and surrounding areas. Florida Tiki Huts offers the very best in high quality sales, service, and installation in Riverview, Florida.
Experience a real tropical paradise from the comfort of your very own backyard or pool patio area at your home in Riverview , FL with the professional installation of a brand new custom Tiki Hut, Tiki Bar, take the next step towards having your very own outdoor living tiki experience. Make your home in Riverview , Florida a fun tropical place to live.
Our Tiki Huts & Tiki Bars Are Built To Perfection!
With over 40 years experience building tiki huts & tiki Bars throughout the Riverview, Florida area we can say with confidence that we build some of the best tiki huts in the industry. Proud to be "The Original" Florida Tiki Huts we build our tiki huts to the highest standards and are always built to perfection.
OTHER LINKS:
---
Riverview, FL Tiki Huts (Residential Homes)
Riverview, FL Tiki Huts (Commercial Businesses)
Riverview, FL Tiki Bars
Riverview, FL Palm Huts
Riverview, FL Tiki Umbrellas
Riverview, FL Palm Rethatching
Riverview, FL Palm Roof Repair
Learn More About Tiki Huts & Tiki Bars in Riverview , Florida
Call Today For A Free Consultation (352) 584-4387